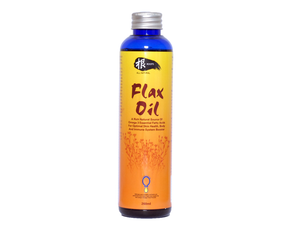 Flax Oil
Roots Technologies Pte Ltd
Regular price $27.00 $23.00 Sale
Flax seed oil is nature's richest vegetable source of Essential Fatty Acids (EFAs). Omega-3 and Omega-6 in the right proportions.
Roots Flax Oil has a higher concentration of Omega-3 fatty acids and a relatively low, but important concentration of Omega-6 fatty acids.
The advantage of Roots Flax Oil supplement is that it can be added to your pet's food for overall health and for the treatment of illnesses without the use of drugs.
Benefits:
Roots Flax Oil recommended to :-
Reduce risk of cancer, diabetes, kidney disease, asthma and heart attack.
Increase vision and circulation
Control arthritis inflammation
Aid in digestion
Increase blood flow to tissues
Control allergies
Eliminates dry skin
Add lustre and shine to your pet's coat
Ingredients:
100% pure human grade unrefined cold pressed flax seed oil. Contains at least 60% Omega-3 essential fatty acids.