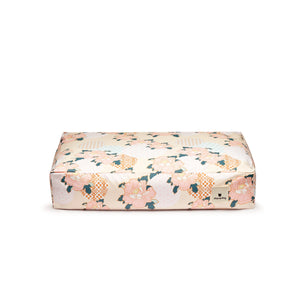 Ohpopdog - Botan Microbeads Bed
Ohpopdog
Regular price $208.00 $188.00 Sale
Botan
The Japanese name for the peony flower, Botan epitomizes the beauty that nature has to offer and the possibilities of a flower in bloom. It symbolizes a blissful life together with loved ones - perfectly in line with its pastel, demure vibe!
Microbeads Bed
Say hello to a night of restful sleep! The Microbeads Bed molds itself according to the shape of the occupant, providing optimal support for your pup throughout the night (or day, if so inclined). It is also designed to allow for consistent airflow, dissipating heat quickly and make for cooler, more comfortable nap times. The only downside? Your pup might want to spend more time on its bed than with you.
Browse our selection of removable covers as well if you'd like to switch things up once in awhile!
Key Features:
Soft surface material with cooling effect for maximum comfort
0.5mm bead filling that mold perfectly around the body
Remove fur easily with a lint roller or by simply wiping down
Measurements:
Small
75x55x12cm / 29x21x5"
Large
94x85x15cm / 37x33.5x5.5"
Material:
Cover: 73% Polyester & 27% Spandex
Lining: 100% Nylon (Water-resitant), Polyester Canvas
Filling: EPS Microbead
Care guide: Gentle machine wash, close the zip and turn the garment inside out before washing. Do not tumble dry, bleach or iron.