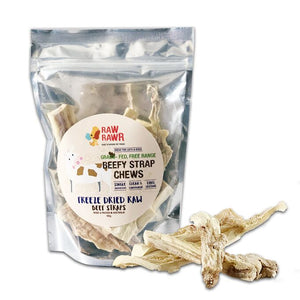 Raw Rawr Freeze Dried Treats - Beef Strap Chews
Raw Rawr Pet Foods
Regular price $28.00 $28.00 Sale
Made using grass fed beef from Australia, each strap is freeze dried to retain its nutritional value as well as maintain high palatibility. It's so good that your pets will be coming up with ways to beg for more!
Beef strap make long lasting chews for your dogs. High in protein and naturally low in fat, their rough and tough texture may help scrape off harmful plaque and tartar naturally and keep teeth and gums in good health.
Made with NO hormones or chemicals. Preservative free.
Raw Rawr chews are safely sourced and stored to ensure they are safe for raw consumption.
Every batch is tested for pathogens (salmonella, e.coli and listeria) before being cleared and certified for export.
Ingredients: 100% Beef Back Muscle
Size: 150g