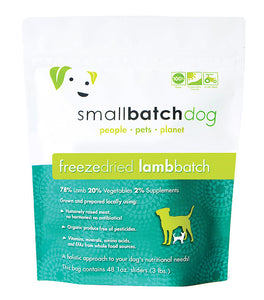 SmallBatch - Freeze Dried Lamb Sliders
Rifavest
Regular price $67.00 $61.00 Sale
SmallBatch Freeze Dried Sliders provide nutrition your dog needs to thrive. Made with the highest quality meats that are free-range, pasture raised, and antibiotic and hormone-free, these recipes are packed with protein and nutrients. Sliders are supplemented with organic produce that are full of vitamins, minerals and amino acids. 
78% lamb, 20% produce, 2% supplements
Benefits: supports stronger immune system, better digestion & healthier stools, healthier skin & coat, cleaner teeth & gums.
Ingredients: lamb hearts, lamb, lamb bone, lamb livers, lamb kidneys, lamb spleens, organic squash, organic celery, organic bok choy, organic cauliflower, organic green beans, salmon oil, organic dandelion greens, organic apple cider vinegar, organic kelp, organic cilantro, organic bee pollen, organic wheat grass, organic bilberry, organic garlic, organic oregano, organic thyme, vitamin E supplement
Reconstituted Analysis:  Moisture (max): 67.5% Crude Protein (min): 15.8% Crude Fat (min): 12.1% Crude Fiber (max): 0.6%
Guaranteed Dry Analysis: Moisture (max): 8.8% Crude Protein (min): 48.4% Crude Fat (min): 45.3% Crude Fiber (max): 2.1%
Calorie Content: ME (calculated metabolized energy) 5400 kcal/kg (54 kcal per slider)
*approx 50 sliders/pack of 14oz*