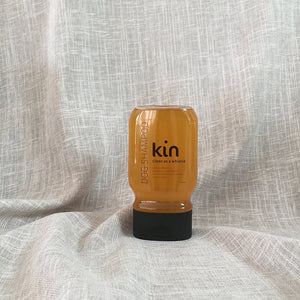 Kin Pet - Clean as a Whistle Shampoo
Kin Pet NZ
Regular price $35.90 $35.90 Sale
Kin is a gentle dog shampoo designed to calm skin and naturally repel fleas and ticks. 
Through using a combination of New Zealand natives and other essential oils, Kin has been designed as a gentle, effective shampoo leaving your dog smelling beautiful with a clean, gorgeously soft coat.
Kin is made from an eco-friendly blend of high quality ingredients.  The surfactants used are from natural, renewable resources and Kin is proud to be free from sulphates, parabens, artificial dyes or colours, artificial fragrances, polyethylene glycols and mineral oils. 
A little about why we included the oils we did;  
Manuka and Kanuka oil are used to give your dog a shiny, healthy coat and provide natural antiseptic skin protection. Kanuka is also known as an anti-inflammatory.
Harakeke, or New Zealand flax oil has been used to promote a shiny coat and healthy skin.  
Aloe Vera extract has antibacterial, antifungal and anti-inflammatory properties, making it soothing to the skin. 
Lemongrass and neem oil repels insects like fleas, ticks, and mosquitoes and can improve the condition of your dog's skin. Lemongrass also provides the natural zesty, clean aroma.
Ingredients: 
Aqua, Decyl Glucoside, Lauryl Glucoside, Glycerine, Coco-Glucoside, Glyceryl Oleate, Sodium Laurylglucosides Hydroxypropylsulfonate, Dehydroacetic Acid-Benzyl Alcohol, Potassium Sorbate, Cymbopogon Flexuosus (Lemongrass) Oil, Phormium Tenax (Harakeke Flax) Oil, Aloe Barbadensis Leaf Extract, Fragrance (Essential Oil Blend), Leptospermum Scoparium (Manuka) Oil, Kunzea Ericoides (Kanuka) Leaf Oil.
Made in New Zealand.  
All ingredients in Kin pet shampoo have been carefully chosen for their beneficial properties and natural effectiveness. Carefully crafted using New Zealand natives to naturally nourish and protect while being gentle on your canine family member, you and the environment.