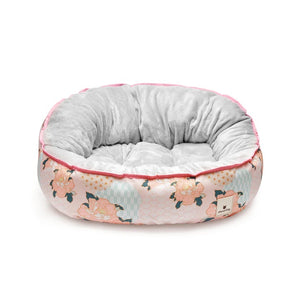 Ohpopdog Reversible Bed - Botan
Ohpopdog
Regular price $89.00 $80.10 Sale
Botan
The Japanese name for the peony flower, Botan epitomizes the beauty that nature has to offer and the possibilities of a flower in bloom. It symbolizes a blissful life together with loved ones - perfectly in line with its pastel, demure vibe!
Reversible Bed
There's no more waking up on the wrong side of the bed with our Reversible Bed! Crafted for the comfort of your furkid and designed to fit your home in style, the reversible bed can be flipped to fit your home decor in any room and is packed with incredibly soft and comfy filling. An all-round cushy side provides the necessary support, and doubles up as the perfect pillow.
And because we care about the details, washing the bed is easy as well! The bed is washing machine safe and comes with a thoughtfully crafted laundry bag that's specially meant for protecting the shape and integrity of the bed from the spin cycle. Simply place the bed in the laundry bag, throw it into the washing machine to wash, and lay flat to air-dry after!
Key Features:
Cotton-like soft filling for premium cushion
Washing machine safe
Comes with a laundry bag for easy washing
Non-allergenic, colour-safe and non-toxic
Measurements:
Small: 45x56cm / 17.7x22"
Medium: 65x74cm / 25.5x29"
Large: 75x80cm / 29.5x31.5"
Material
Shell: 100% Polyester Fibre Canva
Lining: 100% Polyester Fleece
Filling: 100% Polyester
Packaging: Comes with a laundry bag