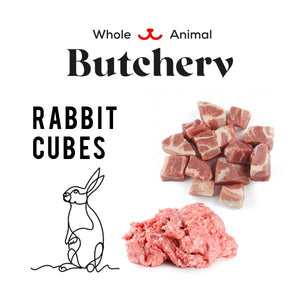 Frozen Rabbit Cubes - Boneless
Whole Animal Butchery
Regular price $27.50 $27.50 Sale
Do your dogs love white meat? If yes, then rabbit meat is a nutritious and exciting addition to their diet!
Rabbit meat is low in fat and cholesterol which makes it highly suitable for overweight dogs or more senior dogs.
Rabbit meat is also used as a hypoallergenic choice of protein for dogs with multiple food sensitivities, allergies and skin issues. Rabbit meat is a 'cooling' meat which means it is anti-inflammatory and reduces skin redness and itching.
Our rabbits are farm-raised on a natural diet (no growth promotants). Suitable for small, medium and large dogs on a raw diet.
Boneless cubes, ideal for those looking for hypoallergenic white meat options
Human-grade
No preservatives, additives or artificial flavourings
Type: Frozen, raw

500g of boneless rabbit cubes (Most suitable for those requiring to thaw in small portions)